As a little girl, I always had my nose in a book. I was the child who ate breakfast with the cereal box for reading material. Some would call me a bibliophile.
In adolescence, I regularly visited the young adult section of the library. I was insatiable. Even better, I was blessed with a mother who did not censor my reading. There was a time the librarian asked for my mother's permission for a book. I think it was for Dale Rogers, "An Angel Unaware." Or maybe it was Jack Thomas' "Reds." Then again it might have been the controversial "Go Ask Alice" or the trashy "Valley of the Dolls." Permission was never refused. The privilege of a library card to expose me to different experiences was, and is, an enormous gift.
Today's news has story after story of parents mobilizing to restrict books in libraries and public schools. The ability to opt their child out of material they deemed too progressive or that goes against a family's values isn't enough. Some parents believe that if these books are restricted and all children 'protected,' the world will be a more innocent place. I feel so badly for these children.
Some of the most banned books in America are in the image below. (I've read most of them.)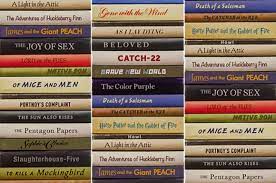 After reading books about drug addiction, I didn't want to do drugs. I didn't want to sleep around or suddenly discover religion either. Some books like "Lord of the Flies" horrified me. "Gone With The Wind" introduced me to the south and raised a lot of questions. "The Color Purple" moved me. The journey to other worlds helped deepen my understanding of the varieties of human experience. Reading opened my mind and expanded my intellect. I became aware of things confusing, fascinating, frightening and magnificent. Books even gave me permission to explore myself. Horror stories by Stephen King helped me face my fear of monsters.
While times change, some things remain the same, sadly. Older generations are often frightened of contemporary culture. Remember the perceived danger of Elvis' swaying hips? The fear of men with long hair? College students protesting war? Rock and roll?
Banning books is dangerous. If we close the door on literature that might illuminate life today, we slip on a slippery slope. Any exercise that a minority operates as the purveyor of limiting information to the majority does the opposite, in my experience.
Human beings are curious. To refuse to acknowledge other perspectives is to close the door on a rich life. Banned books often become best sellers.
Since June I've averaged a book a week. I've explored nonfiction from Susan Cain, Becca Levy and Arthur Brooks. "Smoke Gets in Your Eyes" by Caitlin Doughty who writes about her experience working in a crematory, James Nester's "Breath" about the science of breathing, was fascinating. I've read more accounts by holocaust survivors like the compelling "The Watchmakers," by Harry and Scott Lenga,  Delicious fiction by Nobel Prize winner Kazuo Ishiguro and extraordinary novels by Pulitzer Prize winner Elizabeth Strout.  (If you haven't read "Olive Kitteridge" or "Olive Again," run, don't walk to your nearest bookstore. Olive is the most intriguing and real character I've read in a long time.)
Today I was ridiculously excited to discover a Joan Didion novel that I had not yet read. I checked it out with an enormous grin and a hungry desire to go home and spend the rest of the day reading.
There are books that make me cry, cause me to burst out in laughter, some that made me lose sleep, and others that make me think about something in a way I hadn't considered before.
Today when I returned my latest books to the library and took out two more, I passed a table of books that have either been banned or questioned. I've already read a good selection of them.
The only thing that has happened is that my mind opens. I have been treated to the power of language. My vocabulary improved. I journey in the footsteps of authors who take me somewhere I would not otherwise have gone.
Growing up with a mother that trusted me to read racy novels and a library that stocked such books did not turn me into a bad or confused person.
'Protecting' our children from reading material only stands to leave them helplessly unaware in a changing world. This type of protection tells our young adults that they cannot be trusted to utilize their curiosity and quest for information. That they cannot be trusted to make decisions for themselves.
Sometimes I believe we do much harm to our children in the guise of protecting them. The world is a vibrant, multi-faceted, at times terrifying place where both good and bad things happen. To pretend otherwise is to lie to a vulnerable part of the population.
Reading remains one of my favorite past times. And the library is a favorite treasure hunt each time I visit. I don't expect everyone to be as voracious as me, only hope that everyone enjoy the pleasure of picking up a book, holding it in their hands, maybe sniffing the paper, and then buckling in for a grand adventure of the mind.
Rather than limit the opportunity to explore things our youth might be curious about, don't we owe it to them to expose them to a wide range of journeys? Sheltering them from things we don't understand does little to develop responsible adults.
Banning books is a knee jerk reaction to the unknown and a disservice to our youth. Our libraries are treasures of knowledge, open doors to other worlds, and invite in the ways we are all different, and yet all the same.
Learn more and join the fight against banning books:
Purchasing and reading banned books is not only a good way to support the authors but is also a good way to educate yourself on what is considered offensive.