Over the coming year I will periodically post a 'book review' section with reading recommendations. I always have at least one book going and another four or five waiting on my nightstand. My literary taste fluctuates flowing between non-fiction and fiction. My requirements for sharing a book with you is it needs to be a 'ripping read' as my friend Sara describes it. The book must also have excellent writing and elements that make me think or even introduce me to a different perspective. I enjoy books that take their time letting a story unfold and allow the reader to infer versus feeling everything needs to be spelled out. I like authors who assume I am intelligent!
This post has four books I'd like to share. All are fiction: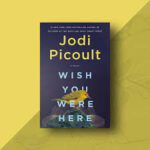 Wish You Were Here ~ Jodi Picoult
"Wish You Were Here" takes time in the space of Covid with the story starting in March 2020. The book opens just as Covid is beginning to be a part of the conversation between a couple, Diana and Finn, living in NYC. They are preparing for a trip to the Galapagos where Diana is pretty sure her boyfriend will ask her to marry him. She's got her life planned and this engagement will be right on schedule.
Then Covid hits and the plans are blown up.
Finn is a doctor and just before their trip he tells her he can't get away; the hospital needs all hands on deck. She should go without him. Though she wonders if that's the right decision, she goes.
And this is where I'm going to stop. You need to read the book because, wow! The story takes an unexpected turn, which is saying a lot because I consider myself a pro at figuring out plots before they unfold.
In the past, fiction has been low on my list, but thanks to the New York Times book review and my trusty librarian, I've found fiction that has blown my socks off. This is one of those books.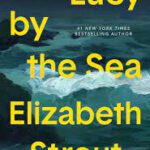 Lucy By The Sea ~ Elizabeth Strout
One of the things I love about Elizabeth Strout's writing is her character development. Characters are not all good or bad. There is a vulnerability to Strout's writing that creates a reading experience which almost feels like one is watching a true story unfold.
This is the third in a series of books about Lucy, with this story unfolding in the time of Covid. Lucy's ex-husband convinces her to leave NYC and live in Maine just before a mandatory quarantine is enforced. Of course like those of us in real life, Lucy thinks this will only be a few weeks at most until it all blows over. She reluctantly agrees.
This novel unwraps the complexities of our quarantine experience and dives deeply into how many of us evaluated our relationships. But the most interesting thing for me as a reader was how well we get to know Lucy in the midst of these changes. Artifice is stripped away and we get down to the real deal of who Lucy is and by default who we are as well. I don't think it's a leap to say that Strout's ability to render flawed and imperfect, yet lovable, characters helps me feel more comfortable in my own skin.
Strout's three other books about Lucy include "My Name is Lucy Barton;" "Anything is Possible," and "Oh William." I read them one after another and felt Lucy was someone I might recognize on the street…if she were real of course.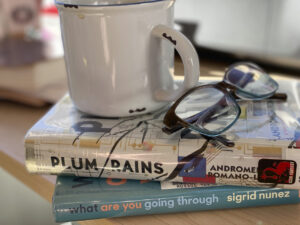 What Are You Going Through ~ Sigrid Nunez
This was my first introduction to Sigrid Nunez and I can't wait to read more of her work. Through a series of moments in a woman's life, we are privy to conversations about the meaning of life and death and receive a deeply focused view into female friendship. The main character remains unnamed but that doesn't keep her at a distance, in fact, the writer's style almost pulls you into the mindset of this woman. You begin to feel maybe it's you experiencing these conversations and experiences.
There is one chapter that I suggest close attention be paid. Chapter III  shares the main character's regular encounters with another woman in the gym locker room. Time has passed since they first met, and one of these women laments the passing of years and the loss of her beauty. Here are a few of her comments:
"From the back is the worst, she said. I really can't stand how I look from the back. I never wear anything anymore that doesn't cover my butt."

"I remember, the once beautiful woman said, one of the worst parts of it all was the guilt. I honestly felt that, by growing older and losing my looks, I was a disappointment to people, I was letting them down."
I read this chapter thinking, not that she was necessarily wrong, but that her perspective about the inevitable loss of youthful looks was depressing as hell. And yet, again, her views are not unusual; I hear some of her comments myself. This is not the over-riding perspective I personally want to hold on to as I get older.
A large portion of this series of conversations and insights have to do with a good friend who has a terminal illness and wants the main character's help with assisted suicide.
Beautiful writing and some of the most truthful conversations about life and death I've read in some time.
Plum Rains ~ Andromeda Romano-Lax
The Boulder Public Library recommended this book to me after I told them how much I loved Kazuo Ishiguro's "Klara and The Sun." Both books have a view into a future world where robots and AI are every day assistants to human beings. Like Klara and The Sun, Plum Rains focuses on the complexities of relationship between human beings and artificial life forms. I am not a reader who tends to enjoy science fiction or stories about alternate universes, but "Plum Rains" is far more than that.
We quickly witness the mess man has made of the world all these years into the future. The story takes place in Japan in the year 2029. Fertility rates are down and women are committing suicide at alarming rates after miscarriages. Angelica is a Filipina nurse caring for a Japanese woman, Sayoko, who is preparing to celebrate her 100th birthday when a gift arrives. Hiro as he comes to be named, is a robot being trained to care for Sayoko.
The relationship between these three is beautifully unwrapped.