The 2021 Wise Women Project features interviews and portraits of women over 50 with the goal of recognizing the many ways women contribute and provide inspiration to our community. These are their stories. Want to participate? Learn more here.
Age?  51
What is your profession/work today?
I am a swim coach and an occupational therapist (OT). Currently, I work in home health OT and see mostly older adults after they have been discharged from the hospital. I coach for Fairview High School and the Louisville Dolphins.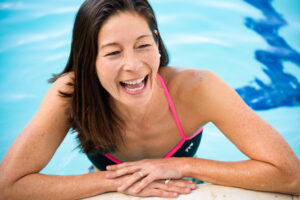 How did you decide to follow this path?
I am a swim coach because I love the sport (I swam D1 in college), and I enjoy spending time with young people. Their energy is contagious.
Near my graduation from college, I chose occupational therapy as a profession after my dad had a major stroke that left him unable to work. He had been a patent translator, speaking 12 languages, and the stroke affected his language center.  He required an OT for his rehab. OT is a rehab specialty that focuses on using meaningful activities to help clients recover from various injuries and disabilities, and I really like the creative aspect of the job.
How has your work evolved as you have become older?
I have worked in different settings: inpatient, outpatient, pediatric and now home health care. Being more energetic at the start of my professional life,  the fast-paced inpatient setting matched my tempo. I learned skills quickly and kept up with the demanding schedule.  As I have gotten older, I prefer more time with clients.  The creative arts and crafts I incorporate into my therapy benefit from a more unhurried approach.
What does the work you do mean to you especially at this stage of life?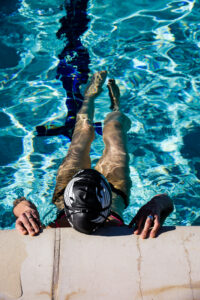 My passion for swim coaching and OT are part of my essence. Swim coaching gives me a feeling of connection with my community. As an Air Force spouse for over twenty years requiring many moves, my work has provided me with an immediate bond within each and every new community.  Most of my best friends have been made at the pool! In addition, OT has given me perspective and a growing comfort with the aging process.
What is/has been the biggest roadblock to you in your work?
Continuity can be so beneficial in both coaching and therapy; the frequent moves have made it difficult to advance fully in my professions. For example, my favorite OT job was at a German pediatric clinic, but I knew I would only work there for a few years before moving and starting anew. These types of forced career changes have been one of the biggest challenges as a military spouse.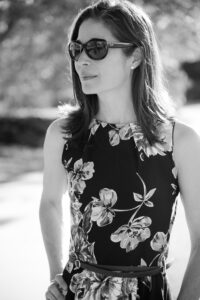 How did you/are you pushing past that roadblock?
Retiring from a military life in 2017 afforded us the opportunity to settle down, and we are loving our choice of Colorado. As a social being, I am working multiple part-time jobs in a variety of arenas to ingrain myself into the local community for long-term connection.
Share a favorite inspirational quote.
"It is a narrow mind which cannot look at a subject from various points of view." George Eliot
Advice to anyone wanting to work in your profession and who is over the age of 50?
I think being a swim coach after 50 is awesome! I think I could work on the pool deck for quite a long time. Just have to keep up with the new techniques. It would be more challenging to work in certain settings as an OT over 50. I would not recommend acute care or inpatient therapy because of the transfers and occasional heavy lifting/ physical demands.
Why did you decide to participate in the Wise Women Project?
I participated in the Wise Women Project at the suggestion of my husband. I probably would not have done it without his encouragement. And for some reason he thinks I am interesting!