The 2021 Wise Women Project features interviews and portraits of women over 50 with the goal of recognizing the many ways women contribute and provide inspiration to our community. These are their stories. Want to participate? Learn more here.
How old are you? 66
What is your medium today?
Poetry, Native American Flute, Drum, (performance and healing work). Healing/Shamanic Practitioner. Leather (Artisan for 49 years). I'm moving more towards poetry, teaching, and performance.
Why this medium?
Poetry incorporates all of my skills and it surprises me. It is such a profound medicine. I can teach others to create my leather bags, but no one can write our poems. It's a way to utilize my lifetime of study, learning, experience and wisdom and poetry can live way beyond me. For example  I wrote a poem after the recent shooting at a Boulder King Soopers, and it has been sent out in church newsletters, a doctor's office newsletter, read on Colorado Public Matters and shared person-to-person extensively.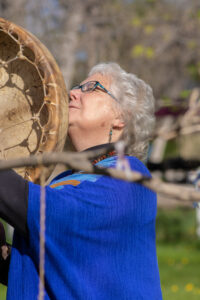 How has your art evolved as you have become older?
I am ready to commit to this newer art after 49 years as a leather artisan. I am ready for a more spacious, joyful life. It's important for me to pursue whatever makes me jump out of bed in the morning excited for the day. I am in awe of what I learn through my art and how many lives can be positively impacted in sharing these wisdoms. I am so grateful to be challenged mentally and have this avenue to teach my wisdoms through.
What does art mean to you especially at this stage of life?
Art in all her forms keeps life fresh and interesting. It's a way of looking and processing those important moments that fly by. Once they're in the poem they have eternal life. As a Shamanic Practitioner I see and feel so many connections that a lot of people don't notice in work-day worlds. I get to help open those awarenesses in an invitational, grounded, beautiful way. My poem "Tulips" (about the boulder shootings) takes into consideration what I am asking of the tulips as I attach them to the memorial fence outside King Soopers.  Most people tell me they do not worry about the flowers there so I get to bring gratitude to their sacrifice and generosity.  I share at least one poem every day with someone, often a stranger.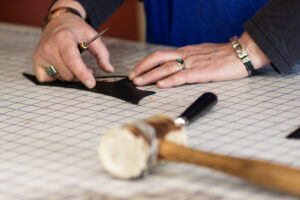 What is/has been the biggest roadblock to you as an artist?
Probably making a living at it. I have opened leather shops/studios five times and have always struggled to make ends meet. Being more of a poet now is something I could only dream of in the past. I didn't know it was important. 90% of people tell me I'll never make a living at it. I shut off those voices as they don't know me well enough. Having more support to go to school, etc., as a young person may have landed me here sooner but I also love the way I've walked in this world. I opened my first custom leather shop at 19 years old and just stumbled through. I've had a healing practice since 1973.
How did you/are you pushing past that roadblock?
I'm just doing it. I figure if not now, then when? It's interesting because I'm a master leather artisan after 49 years, and at this age if I want a new career it seems like a great time to jump. I have a gift for writing and performance and it makes me so happy I could burst. I've taken advantage of having less leatherwork orders in the pandemic to finally launch my poetry website and publish my book. My body is beat up from the physical nature of my leather art plus I'm drawn to poetry so radically I cannot ignore the call like I have the past 8 years. I am drawn to a lifestyle without so many deadlines.  I tried to sell my leather business 8 years ago to make this shift but it didn't pan out until recently, so I have been doing all of it; leather, teaching monthly, performance, writing, contests, and healing clients.
Share a favorite quote about art.
"Art washes away from the soul the dust of everyday life". Pablo. Picasso
Advice to anyone just beginning to experiment with their creativity and who is over the age of 50?
There's a difference between being creative and making something marketable. Creativity is deeply important to a happy, rich, expanded life. Go for it! Protect what is precious and find people to support you and who you can share it with.
Anything you want to add?
This is pretty interesting for me being I have so many pursuits. It's been hard for me to know where to land here, and why I took so long. I love my drum, flute, and pens. I love my leather. What do we do?? To figure out my intention would probably help.  Poetry, performance, teaching is probably it.
Why did you want to participate in the Wise Women Project?
I love the idea and beauty of the Wise Women Project and feel honored to be a part of it. I love honoring ourselves as women who keep embracing life on our own terms. I also wanted some great headshots as I forge a new creative path in the world. By the way, I've sold my business and though it will change, I'll keep doing my leather art!
Listen to Val read her poem, Soar Ready, below.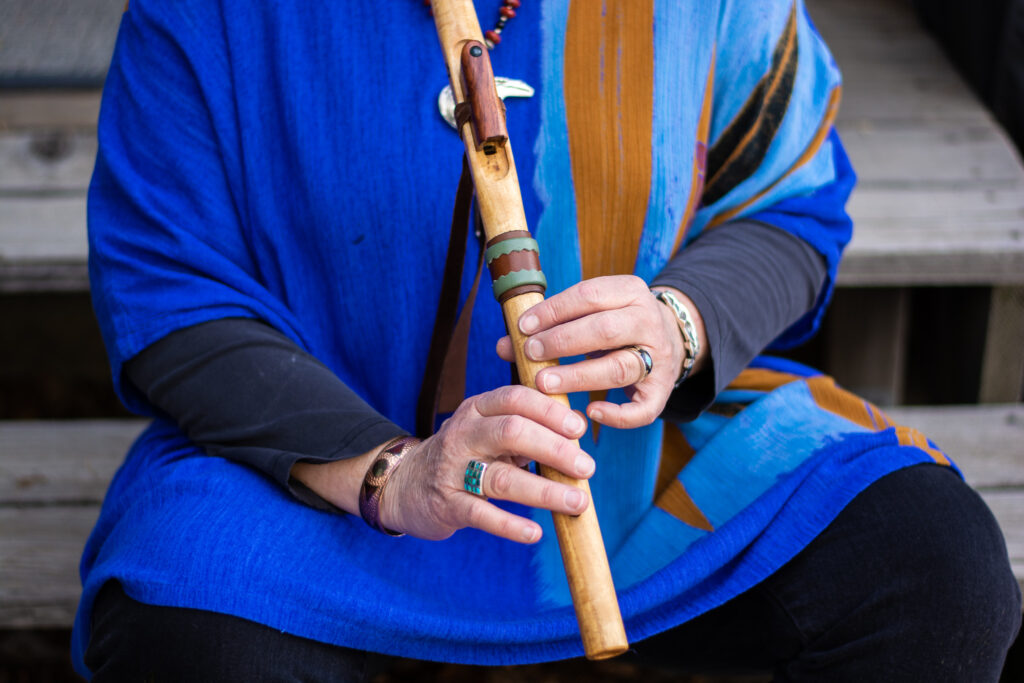 You can learn more about Val on her website here and see her beautiful leather work here.