The mountains and pine forests got under my skin, and once I got to scratching as an adult, I returned to what I knew.
Extraordinary experiences often begin without announcement or fanfare, and my experience as Artist in Residence at Rocky Mountain National Park during the summer of 2012 was like that. I applied for the residency on a last-minute whim, certain I would not be chosen (we creative beings are critical of our talent). I was seeking immersion in the place that has magnetically pulled me into its midst for years after I spent many childhood summers in Buena Vista, Colorado, with my geologist father and mother and brother. In June of 2010 I finally moved from Boston to Boulder to return to the place I felt was my true home: the Rocky Mountains.
Since my move, I had spent a great deal of time in the park hiking, sometimes just sitting out of view on a rock, thinking, solving a problem, healing, and at times, grieving. This was where I went whenever I was in need of comfort or renewed perspective, and the mountains never let me down. I hoped to spend my two-week residency seeking the common theme in the countless essays I had published on my blog as well as journaling about my experience in the rustic William Allen White cabin in Moraine Park. As an artist, I was expected to donate an original piece of work, and I had a year to do so. I missed the deadline by six months. The experience was vast and rich, and I wanted to do justice to the incredible gift of it. After countless starts and stops, I eventually realized one essay was not enough to document this experience, and a book-length project would be the result. I also realized I was healing old wounds while there, and I let the enormity of that pain inhabit my head and my heart, trusting in the path on which the mountains would lead me. Perhaps it is because of this healing that I found I needed distance from my residency before I was able to let my words weave the trail from there to here.
###
I meet Jean, the park ranger, and we sit on benches behind Beaver Meadows Visitor Center and talk about the coming two-week residency. Jean is in charge of this program at Rocky Mountain National Park, and we have emailed for months in preparation for this moment. She is energetic, with a compact body, and her nose is pierced. I'm drawn to her sparkling, honest eyes, and before we even begin, I sense she speaks the language of the mountains.
Jean gives me the keys to the cabin and reviews details with me like where guests can park and how to drive behind the cabin to unpack. We review my obligations to the park system, which include an interview with the local paper and two public events, but we keep getting sidetracked by what this place means to each of us. I tell her about my summers in the Colorado mountains when I was a little girl. Dad worked as a geologist for Bear Creek Mining Company, and from May to September 1966–1973, I played alone outside at camp. The mountains reclaimed my soul when my marriage disintegrated, pulling me like an uncut umbilical cord, a gentle tug at first and then eventually a magnetic pull I could not have avoided if I wanted to. Jean tells me how she once came upon a man sitting motionless and quiet on a trail, and how her job had trained her to ask him if he was okay, but how her heart already knew why he was there.
"We come to the mountains to heal, don't we?" she said as she handed me the heavy, old-fashioned key.
###
Pearls, leather Reeboks with white cotton socks pulled taught, Birkenstocks with striped leggings, Tevas, Merrells, Keens, pocketbooks, a reusable shopping bag from Whole Foods slung over a shoulder, Tilly hats, baseball caps, straw hats, t-shirts, jeans, hiking poles, infants in front packs and children in backpacks. License plates from Indiana, Illinois, Winnipeg, Nebraska, Oklahoma, Tennessee, California, New York, Manitoba, Arizona, Texas, Colorado, Utah, Missouri, Michigan, Kansas. They are all here.
I meet a gap-toothed 3-year-old on chunky legs making slow progress up the paved path leading away from Bear Lake. His little attention-deficient body is not sure where to go first or what to look at, but his face is bright with the joy of someone who knows the world truly revolves around him. He locks eyes with me and says, "I am named Everest. After a big mountain." He is not shy, and he wants to talk to me, and I remember how I felt when I was a preschool teacher holding the hand of a young child who had exciting stories to tell as we crossed the street. Everest's parents smile in apology, but this is not a child for whom to apologize.
I pass two older men slowly climbing on the paved path to Alberta Falls, and they are talking about measuring their heart rate and staying fit and healthy.
A woman who appears to be in her 70s asks me, with hope in her voice, "How much farther to the lake?" She is just shy of Nymph Lake, and I tell her "You are almost there, but if you have it in you, keep going to Dream Lake," and she replies in a when-will-this-end voice, "Well I don't." But still she is here.
We might be from different places all over the world, but today we share this day, this Rocky Mountain National Park. We might all have risen from our comfortable beds this morning, grabbed a cup of coffee or a glass of orange juice, shared a chaotic breakfast with our families or perhaps quietly nibbled toast alone at a window seat. Maybe we promised our children a normally forbidden item, fast food french fries or extra computer time, if they would come outside and hike, or maybe we packed our solo selves a peanut-butter-and-jelly lunch before driving to Bear Lake. Our days' beginnings might have born little resemblance to one another, but we all set out for an adventure on a Tuesday morning in July. The television and computers were left behind, cell phones were deposited into deep pockets, and maybe we were worried about disconnecting for a few hours or for the day, but still we came. We were silent or chatty, chastised our children for going off trail or fielded questions about what lay ahead, but we all spoke a similar language on this day because we were all here.
There was a time when I was snobby with my hiking prowess. I disdained people who set out on a trail in pearls or with a pocketbook as "people who don't know what they are doing," and I am not proud to admit this. I worked hard to shut that judgmental woman up because there was a time, though I might choose to forget, when I hiked in New Hampshire, an out-of-shape, sad woman in cotton who once ran out of water and might have gone off trail. But I evolved. I morphed, over time, into a woman in synthetic layers and finely spun merino wool and backpacks not meant for school. Every time I set out on a trail, heeding the call of the mountains and longing for the wind's exhale, I experienced the difficulty of pulling an overweight body up a slide or balancing on a mossy and bobbing branch across a stream, and I went deeper into myself. I was first an unhappily married woman, then a bewildered divorced woman, and eventually a seasoned solo hiker who healed her heart in the woods. Everyone begins somewhere, and there is no reason to hoard the possibility for peace I found on the trail. I need to remember this. I want to be selfless and generous as nature's companion, not selfish and overly protective.
When I see pearls walking alongside a backpack, I feel hope. I feel hope when I see ordinary human beings taking time out of their work schedules, family obligations, or couch time to spend moments in an extraordinary setting that provides an internal perspective the indoors cannot. The outdoors is where I go to recover, to reflect and to remember. I don't have to speak, I just have to be. It works every time without fail. I return home after a few hours in the mountains or woods or next to a lake, and my mind is quieter, more organized, and ready to let go and move forward. I like to believe the world would be a calmer and kinder place if everyone searched for their soul on a trail lined with aspens and pine trees.
Bear Lake Road is under construction along a five-mile stretch not improved for 80 years. The road is closed to private vehicles from 9 a.m. to 4 p.m., and yet people still keep coming. Two twenty-minute delays on the shuttle are the norm, on the way in and out of an area where the road shrinks down to one lane, and still people come. It is accessible and beautiful, and lower Bear Lake is crowded because of the easy terrain around the lake and just above the lake. The steady crowd has a celebratory energy like the water itself.
I enjoy the solo hike, the time alone, the solitude, and the quiet, a quiet I am hard-pressed to find in any other environment, even during yoga. I suspect I also enjoy the solo precisely because it is an adventure. I have moments of fear and confusion on the trail, but the reward for me is moving past that. Those moments of anxiety are what drive me. I figure it out. I always figure it out. Sometimes my day-to-day self needs to remember that I am capable of much more than I attempt. Sometimes my internal self needs a bit of a challenge that will deepen internal strength I will continue to draw upon for years.
New Hampshire's Tripyramid Mountain was one of my first mental challenges. The hike was long, more than ten miles, but that wasn't what made me almost decide not to go—it was fear of the South Slide, a steep and gravel-strewn path. I hiked this trail with a large group when I was still married, but my husband was not the one who provided me the moral support I needed; my female hiking companions vowed to stay with me when we came to the slide. When I came upon the slide, my first thought was, "This is what I've been worried about?" because though steep, it was not technical or impossible by any means. I made friends with a woman on that hike as she and I descended together who remains one of my dearest friends to this day. A few weeks later, I attended a social gathering alone, and I was nervous about entering a room where everyone knew one another, but I drew courage from that hike and told myself, "Sweetheart, if you can meet a physical fear head on, you can do this," and I did, still shy, still feeling awkward, but with shoulders squared and eyes up.
So I know why I head to the park, to the mountains, or anywhere I can learn lessons from nature; the question is, why is everyone else here?
I've hiked with young children before, and I know the challenges. Hannah, my oldest daughter, once planted herself alongside a trail as we hiked Mt. Moosilauke in New Hampshire, saying, "Just make believe I'm a statue and leave me here." She hated hiking then, dragging her feet and complaining, but is now a strong, avid hiker at 24. I also know the challenges of having an older body, having discovered I have exercise-induced asthma and knowing altitude is the biggest breathing troublemaker. Things we may have breezed through as men and women in our 20s, 30s, even 40s, get more challenging, and if one hasn't stayed in shape, this challenge can seem insurmountable. The television calls, friends want to do lunch, we have errands to run, our boss wants to be able to reach us at all times; the hurdles we need to jump to isolate ourselves for a bit can be tall.
The older men in front of me complain that their families worry about them exerting themselves. They talk together about independence, and though their white-socked, booted feet are not fast, they touch the ground solidly. I imagine their friendship is the one thing that keeps their anxious spouses or children at bay. They talk about how they measure overdoing it and make a joke out of how someday they will not be able to be here hiking. But for now, they are here. At a certain point in life, obstacles like health, worry over slipping and falling, heart disease, and frail bones can cause children, grandchildren, and spouses to implore senior family members and friends not to "overdo it." I consider that personally, when it's my time, I sure as hell hope it happens when I'm "overdoing" it and not sitting at home frightened of moving my body because of "what ifs."
When I spent summers in Colorado with my family, I was tossed into a campsite at Twin Lakes without playmates or anywhere to blow-dry my hair or take a warm shower. I hated every damn minute of my wilderness summers. But look who I am now. Look where I live and where I go to find perspective and comfort. The mountains and pine forests got under my skin, and once I got to scratching as an adult, I returned to what I knew.
I suspect that is what happened to Hannah and countless other children baptized in the outdoors who dragged their feet, screamed for a snack, and ignored the lovely views. I suspect that is what happened to the gentlemen I passed and the parents of many of the children I saw. It gets under our skin; we know something exists beyond the shopping mall, overly manicured lawns, and giant flat-screen TVs. It might lie dormant inside of us, but for the lucky among us, it will come back to life in its own time. For me it was when I learned to ski at 35, as a woman who almost had an affair but didn't, who instead realized her marriage was in deep trouble. The outdoors was where I went when my marriage ended to remember who I was amidst the wreckage of my divorce.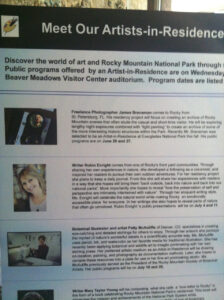 One of my obligations as artist in residence is to deliver two public presentations on my craft. My second speech is to a packed crowd diverse in age and gender. Children sit quietly next to their parents, and there isn't a sound in the room–no scratching feet, no early departures, no wiggling youngsters. I am on fire in this place, 100 percent in my own skin and knowing that because of the truth I speak, others might look deeper inside themselves. I talk about the creative process and my writing process and do something I've never done before: I read first drafts of material I developed while there. I am not frightened to do so. I explain that we all need to start somewhere and listen to what our instincts tell us about our creations. I explain that sometimes we just need to be patient. I explain that sometimes we need to take risks, measured risks, to find our voice.
The very next day I encounter a woman who sat in the audience, and she stops me and tells me she had ventured out on her first solo hike that day because of me. I meet a family who stops me and tells me they are grateful for the message I delivered.
I am Robin here.
I like to think Everest, the little boy who screamed, "HI!" and then told me his name was Everest, the same name as the mountain, will one day remember, not in the way we hold snapshots in our mind, but instead in his veins, the beat of his heart, the tug he feels when he spies a trailhead anywhere, and that he too will return to the outdoors. Just because. Because it is something he knows.
###
At the end of my two weeks, the animals came to say good-bye.
My yoga mat was in the living room in front of the open screen door, latched to keep chipmunks out (they can be pests, like mice), but I became too hot and realized I had an opportunity to do yoga here, in Rocky Mountain National Park, right on the front porch. I was a tiny bit subconscious as I dragged my orange mat outside, not wanting to make a spectacle of myself in front of all the slowly passing vehicles at 7:30 p.m. on a Friday evening. Then I noticed why all the cars had slowed and now were stopping across the street. I saw them, the herd of elk I have seen every day from my front porch, and they were moving in my direction. I knew it would be a matter of time before they found their way to my front lawn, and I was not mistaken. They crossed the street and walked up the hill toward the front lawn, nibbling, ignoring the flashes from cameras, looking my way a few times, and then dropping their heads to eat again. I sat on the concrete wall that surrounds the deck, and I let myself sink into the summer evening quiet as I watched them.
There was one limping, and I began to cry. I know wild animals get injured just like human beings do, but it broke my heart because I suspected injured elk do not survive as long as healthy elk. And then my tears turned to delight when I saw the babies! They had been hidden at first inside the loose circle of grown elk until they began to play, became rambunctious like children do, and chased one another until there was some kind of hidden signal and they stopped. Cars lined the road and pictures were taken, and I took some myself. But tonight felt special. Tonight it felt like they had come to say good-bye to me. I had a herd on my front lawn when I arrived and then not again until tonight. Why can't the truth be magic? Why can't it be possible that I touched their world in some way, too? A hummingbird hovers above her favorite tree and looks my way as if to say, "Don't get too excited—they are just elk and they can't fly, but I can!"
Birds just flew by me, two blue birds, fast as can be, wings spread wide like the wings of an airplane, and scared the living shit out of me as they swooped under the roof of the deck. I think they were playing with me because their wings almost touched my head as they chased one another. This is their playground; this is their place. I have only borrowed a small space in their kingdom.
I watched a chipmunk crawl across the ledge of the deck, and I tried to shoo him away, but he looked right at me as if to say, "I run this roost, Lady," and then he scooted down the wall and over to the raspberry bush. I watched him nimbly hold on tight to the branches as they wobbled with his weight and he nibbled berries. As annoying as chipmunks can be, they are also very cute when they play like that. I have been blessed. So blessed.
Eventually, the elk moved together as one, as if hearing a silent signal, across the street where they continued to nibble on grass. But as they began to cross the street, one of them discovered the construction barriers and a tall pole that designates the road's edge, and he began to rub his neck across it like a cat rubs her body against a chair. He stayed there longer than I think he intended, crossing the street last.
This artwork was produced under the Artist-In-Residence Program at Rocky Mountain National Park. My artist in residency was in 2012 and was one of the most magnificent experiences in my life. "Why We Are Here" has been entered into the permanent collection of RMNP and though I might have made changes to this essay today, I have shared it here as it is in the collection, with one exception. I corrected the spelling of Mt. Moosilauke. Below are some images from my artist in residency.