A few weeks ago, I hiked alone to Greeley Ponds, well just a quarter mile short of the ponds. It's not the easy going trail I remembered, having been rerouted after Hurricane Irene in 2011. This new trail involves about 1000 feet or more of climbing and I realize my legs are trashed from the previous two days.
Solo hiking is something I've enjoyed for over 16 years. Time to be alone with my thoughts and listen to the sound of the wind. I couldn't wait to spend three days alone on trails I know well. This time was different.
The first part of the trail was still flat. I took my time, kicking my feet through leaves of red, green, yellow, orange and all the shades in between. I stopped at a puddle along the side of the river, one where the leaves were floating and the trees were reflected stark and clear in the water. I photographed this setting for a bit. After I returned home, I found that those were the favorite photos of the day, having had my fill of fall leaves and trees.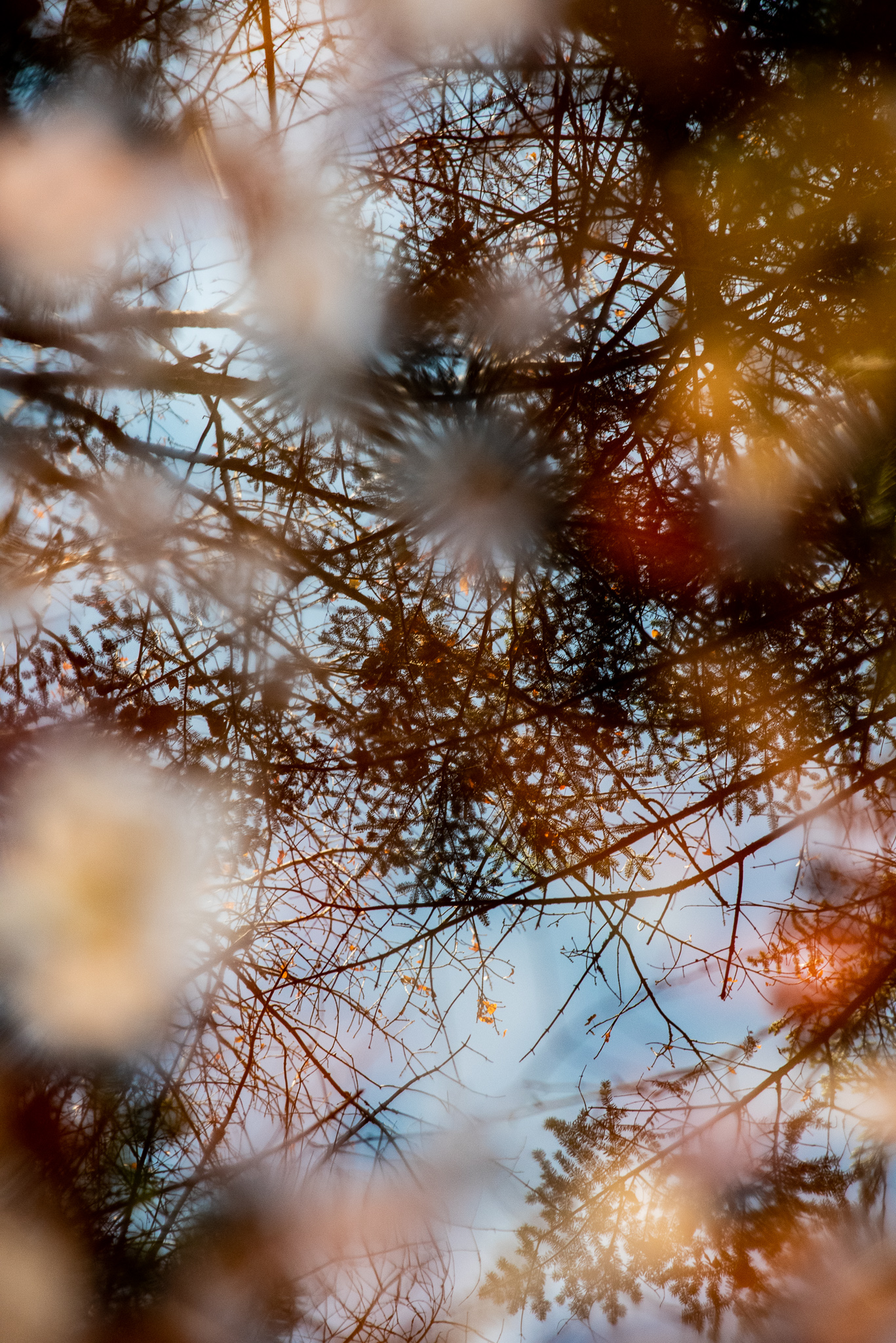 At first, the climbing wasn't a big deal. The trail is wide and the ascent was gradual so I just took my time. About an hour after I began, I had to pee. After looking for any other hikers, I stood right off the trail. The minute I stopped, my bladder almost exploded, I had to go so badly. After I began my trek again, I realized that the trail had a switchback that led down. If someone had been coming up that part of the path, they would have been treated to my naked bottom. But I never saw anyone at all. The trail was all mine. I could even sing out loud.
I came to a bridge with a sign that said "Greeley Ponds – 1 mile" and I thought, 'oh I can do this.' But something began to frighten me. My heart rate rose higher than normal, I was more than halfway through my water and I was bone tired. Was I foolish to keep going? 
Was I safe?
Oh, this is always the question when I hike alone. Am I making the right decision, am I honestly noticing my handicaps whatever they might be on any given day, did I bring enough food, water, and so on. 
But I can honestly say that today was the first time in all my years of hiking alone that the voice in my head was this loud. Unexpectedly, I wished I wasn't alone. My knees ached. My ankles were sore. There was a growing pain in my feet. I was tired. Ready to be done.
So I quit when I was almost there. And I felt almost okay about it.
The return was almost all downhill which was wonderful, though I made sure to watch my footing–years ago I broke my wrist on a descent.
Oh my goodness the downhill went so fast! I considered I had been silly not to continue. I would have been fine.
Right?
Hiking solo with all the beautiful joys of solitude, requires caution and honesty. There is no one to lend a hand, to provide a come-to-Jesus moment. You have to pay attention to your inner voice. I felt out of practice with the inner dialogue. There is always the chance we might be wrong, but then again, we might be right. Self trust is critical. 
On the flat part of the trail, I stopped along the Mad River and listened to the water's gentle gurgling remembering the time I almost lost Tigger there. I wasn't paying attention to the quickness of the current and he was swept away, finally stopped after getting caught in the opposite bank. Before I went to his aid, I removed my shoes and tossed them to the other side along with my backpack. Oh he was so frightened, shivering, looking to me for help, subdued, as I wrapped his wet body in my arms and then crossed, slowly because I was barefoot and the moss on river rock can be more deadly than ice. It happened so quickly. I was so grateful to hold that soaking wet body.
Today though, the river was quietly whispering. There were accordions of leaves—so interesting, how they lined up, like a perfect leaf shish kabob. I photographed the leaves underneath the water, the light upon the river and a certain red leaf that stood out among the rest. I changed lenses and put on the soft focus, experimenting with different renderings.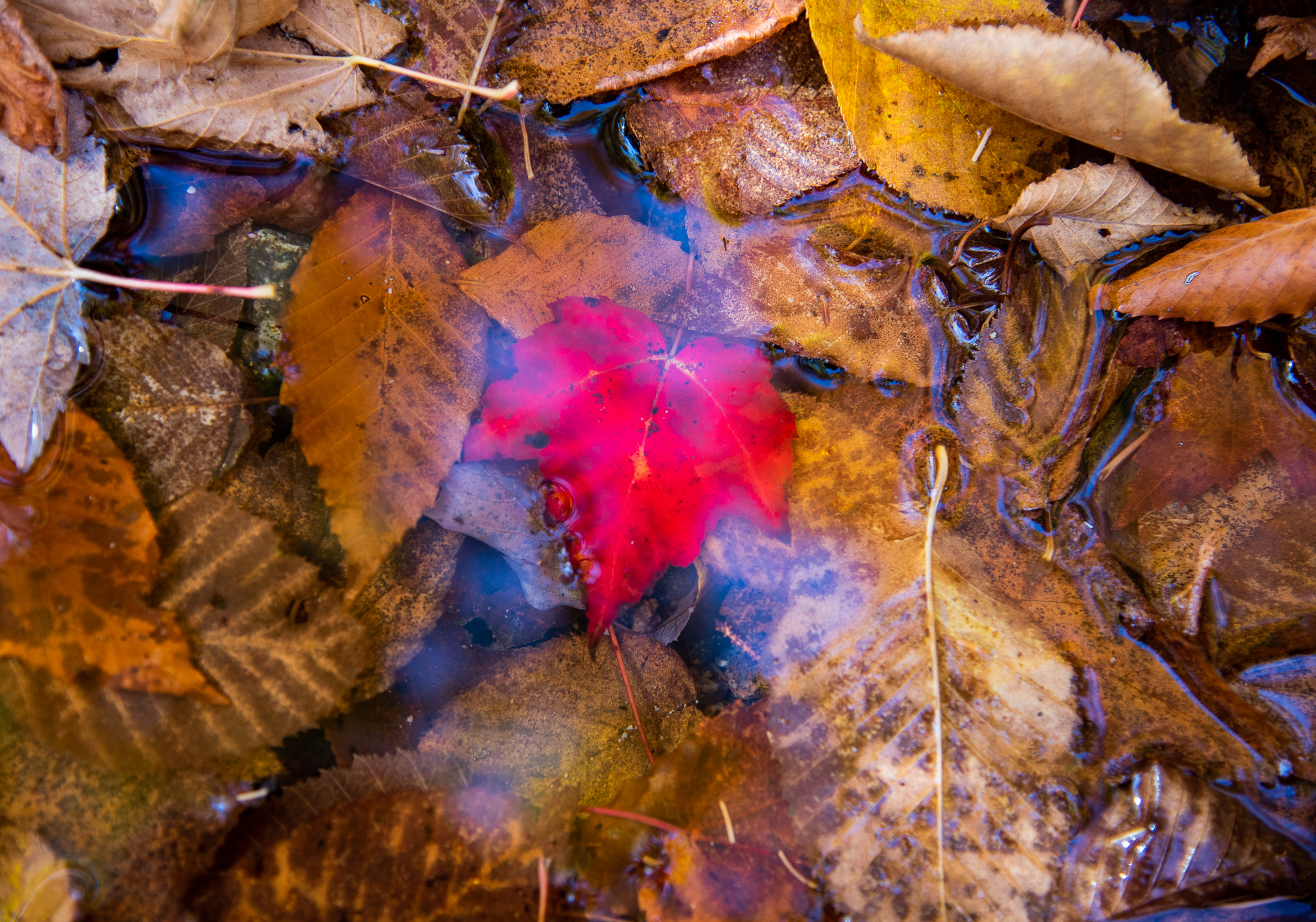 Then I realized I was hungry. Very hungry.
After returning, I removed my shoes, and oh the joy of bare feet on a wood floor! I heated up some pasta for lunch. Oh my goodness, I ate almost a half pound of pasta. The plate was heaping and full and my belly had been so empty. Once my hunger was satisfied, I took a bath.
The house was so quiet and for the first time in my memory, I wished I wasn't alone. I've never felt lonely here, but I missed my husband and the opportunity to say, "Honey, I've just had one hell of a hike!"