Forever Young / 60+ 
What is your medium today?
I am an abstract painter and chose to use encaustic which is warmed pigmented beeswax, oil sticks, graphite, and multiple types of inks. 
Why this medium?
It moves and flows with me. We have a dialogue which is important to me as I know how far I can push this medium. I enjoy working with an open flame torch as I paint layers of wax and inks. A torch allows me to sculpt the wax and acts as an extension of my hand, like a paint brush.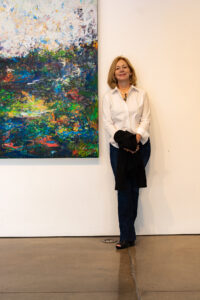 How has your art evolved as you have become older?
My work and I have grown up together so to speak. It was necessary to spend the time and put in the miles to find my personal language, my community, and my core before my art truly began to flow. I have that now.
Life's lessons for me include the importance of embracing love, life, and letting my hair down.
What does art mean to you especially at this stage of life?
I paint every day except Friday afternoons and Sundays. I have developed a rhythm of working in the studio. Painting is second nature to me. I have always been creative and I incorporate art into every aspect of my life including baking, gardening, designing, and dancing. 
What is/has been the biggest roadblock to you as an artist? 
Learning to turn off the lights. I can literally work to exhaustion which isn't good. 
How did you/are you pushing past that roadblock? 
Setting studio hours for myself has been helpful. I love having Friday afternoons off to go 'arting' around Denver or take a road trip to the mountains or to Santa Fe for a night or two. Time away from the studio is as important as time in the studio. They go hand in glove.
Share a favorite quote about art. 
My quote "No rules Just art"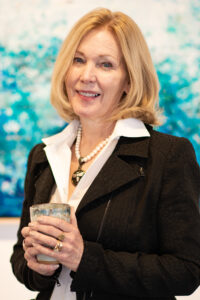 Advice to anyone just beginning to experiment with their creativity and who is over the age of 50? 
Beginning to make art at age 50+ should be an adventure. Take an assortment of classes at the Art Students League or community college.
Even better, get out of town and your comfort zone and head off solo to take a workshop in something totally fun. You will stretch your level of creativity and imagination in ways you didn't realize possible. Try not to
make things precious.
Just make stuff and eventually something will click for you. Don't look back!
Anything you want to add? 
Personally, my love of travel has had a huge impact on my art. Early in my 30's I was invited on my first artist residency at the Virginia Center for Creative Arts (VCCA). This was an eye-opening experience and I never looked back. I continue to do artist residencies, travel solo, and with family and girlfriends.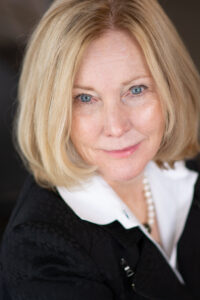 We all breathe the same air. The world is just out there waiting for you. 
Patricia Aaron is an American painter best known for her gestural abstract landscapes composed of layers of encaustic pigments and mixed media applied to custom panels in her signature style painting technique. Her paintings fuse the raw beauty of nature, earthscapes, and urban culture. Aaron's paintings are reflective, pure and honest often embedded with rich story lines.  Her work is currently on exhibit at Denver's Space Gallery. Visit Patricia's website here.
The 2021 Wise Women Project features interviews and portraits of women over 50 with the goal of recognizing the many ways women contribute and provide inspiration to our community. These are their stories. Want to participate? Learn more here.